Original Newspaper Article of February 1975
For Jack Vitali the game's name is professionalism. A sensitivity to customers' needs is the hallmark of John J. (Jack) Vitali's approach to the Western Ontario car buy-ing market. Owner-President and General Manager of Highbury Ford since February 1, 1975, Jack Vitali is an impeccably dressed, soft-spoken man with an underlying "no nonsense" approach which gives you the distinct impression that his way is the professional way.
Born 46 years ago in Copper Cliff, Ontario, Mr. Vitali attended the University of Toronto, graduated in 1952 with a degree in Electrical Engineering, and became a registered member of The Association of Professional Engineers.
Immediately following graduation, he joined Westinghouse Canada Ltd. in Hamilton, working in quality control, manufacturing engineering. He ultimately held the position of Contracts Administration Manager for the Military Electronics Division
A desire to forge his way into his own business led to his resignation in 1967. He subsequently joined his late father in law's automobile business, Stonehouse Ford in Brampton, Ont., as general parts and service manager. In 1972, unable to resist a challenge, he became general manager and partner of MacDonald Ford Sales in Oshawa in the home town backyard of Ford's biggest competitors.Recognizing the need to merchandise automobiles at attractive prices which would recognize the buyers' varying budgets, plus an acute awareness of the importance of meeting after service needs, Mr. Vitali increased Ford sales in that town by about 40 per cent in the short space of 2 years.
As a result of this outstanding performance Ford offered Jack Vitali the opportunity to secure the most coveted Ford franchise in Ontario and in February of 1975, he purchased the former Rankin Ford agency outright.
This was only the beginning of what may be Mr. Vitali's greatest undertaking to date that is to put his own unique stamp of professionalism on an existing and already successful enterprise.
Residents of London, Mr. Vitali and his wife Frances have six children. The eldest son Robert, a graduate of Durham College in Business Administration, is with his father in the business; daughter Susan is completing pharmacy studies at the University of Toronto; daughter Sharon is in her first year of social work at the University of Toronto. The three youngest, Gregory, Mary and Philip attend high school in London.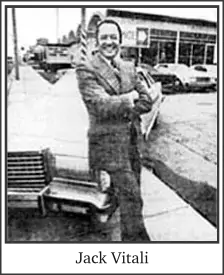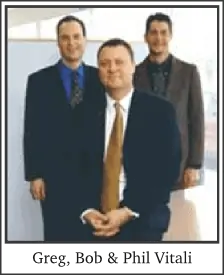 Consistently Satisfying the Customer's Needs is Key to Sons' Success
After graduating from Durham College with a business degree, Bob started with Highbury Ford as warranty administrator. Since then, Bob has worked in almost every position of the dealership giving him excellent experience for his current position of President. Once he graduated from Western with a BA in Commercial and Administrative Studies, Phil joined Highbury Ford in 1984. Phil has also worked in most departments and currently manages one of the families' associated businesses. Greg decided to join the family business in 1988 after practicing law in Toronto and completing an MBA at Western. Greg works with Bob in managing Highbury Ford as well as overseeing a related family business. One of the special benefits of working in a family business is the time spent working together. Family and business time blends into one another. With respect to business, Bob, Greg and Phil learned the business first hand from their father, including the understanding that satisfying the customer is the first priority for a successful business.
They also learned that recruiting good people and treating them well is the only way to achieve customer satisfaction. Continuing with this approach has led to an excellent staff some of whom are still with Highbury Ford. Family time was also important and probably best demonstrated by the father and sons having lunch together virtually without fail each Wednesday. Bob, Greg and Phil would like to express their thanks to all of their customers and employees that have made it possible for Highbury Ford to continue to thrive into this millennium.
Building on the solid foundation provided by their father, the sons are putting their own touch of professionalism into Highbury Ford including an internet site, extended hours until 9:00 PM and Saturday opening in the service and parts department and no-hassle competitive pricing on vehicles and enhanced technology throughout the dealership. Bob, Greg and Phil all reside in London. Bob is married to Wilma and has 4 children, Duane, Jason, Stephanie and Sean. Greg is married to Heather and has twin daughters, Sarah and Ashley. Phil has two children, Phil Jr. and daughter Samantha.